Dodgers Sign Scott Kazmir: 3 years, $48 million
Posted on 30 December 2015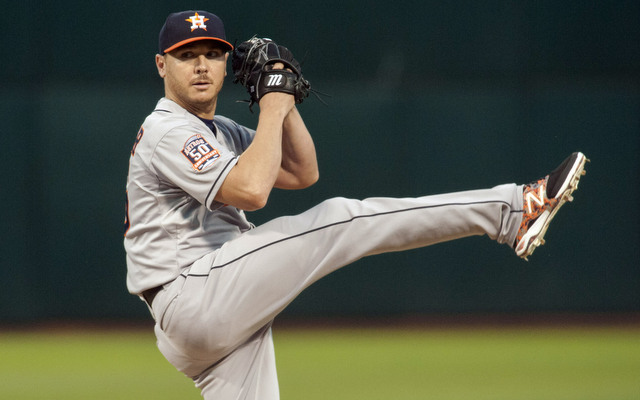 The Dodgers have signed left-hander Scott Kazmir to a three-year contract, the team announced. CBS Sports MLB Insider Jon Heyman has the financial details:
At this point Kazmir essentially replaces Zack Grienke for the Dodgers after Greinke signed with the Diamondbacks a few weeks ago. Kazmir joins Clayton Kershaw, Brett Anderson, Alex Wood, and Mike Bolsinger in the Los Angeles rotation.  Brandon McCarthy (elbow) and Hyun-Jin Ryu (shoulder) are due to return from their surgeries at some point in the first half of 2016.
Kazmir, 31, went 7-11 with a 3.10 ERA (130 ERA+) in 31 starts and 183 innings with the Athletics and Astros last season. Because he was traded at midseason, Houston could not make Kazmir the qualifying offer, so the Dodgers will keep their first-round pick.
Over the last three seasons, Kazmir owns a 3.54 ERA (109 ERA+) with 8.1 K/9 and 2.6 BB/9 in 531 1/3 innings. He was nearly out of baseball in 2012 due to ongoing injury problems. Kazmir played in an independent league and winter ball to get noticed. The Indians gave him a chance in 2013 and he's taken advantage big time.
The Scott Kazmir who led the AL with 239 strikeouts as a 23-year-old in 2007 is long gone at this point. That version of Kazmir had a big mid-90s fastball and one of the best sliders you'll ever see. Due to the injuries, Kazmir has remade himself into a sinker/changeup pitcher. His comeback is rather remarkable.
The Dodgers needed rotation help even before losing Greinke this offseason. They had agreed to a three-year, $45 million contract with Hisashi Iwakuma, but Iwakuma failed the physical and re-signed with the Mariners. Los Angeles reportedly made runs at Johnny Cueto and Mike Leakebefore falling short.
Article by: Mike Axisa, CBS Sports